"In the beginning God created the heaven and the earth."
—Genesis 1:1
| | |
| --- | --- |
| | |
| | |

Psalm 8:3,

"When I consider thy heavens,

the work of thy fingers, the moon and the stars

, which thou hast ordained."

---

The famous biologist Edwin Conklin (1863-1952), said:

"The probability of life originating from accident is comparable to the probability of the unabridged dictionary resulting from an explosion in a printing shop."

---

---

Ecclesiastes

11:5

and 12:4,

"As thou knowest not what is the way of the spirit, nor how the bones do grow in the womb of her that is with child: even so thou knowest not the works of God who maketh all.

...

For God shall bring every work into judgment, with every secret thing, whether it be good, or whether it be evil."

---

---

Dr. Walt Brown, Dr. Henry Morris, Dr. Kent and Eric Hovind and most others today falsely teach that dinosaurs lived amongst men. Dr. Brown even teaches that dinosaurs boarded the Ark.

[

1

]

Thinking people who hold college degrees aren't going to listen to you if you believe that the earth is flat. It's equally as absurd to say that dinosaurs lived 4,500 years ago. Legitimate science agrees with the Bible if we interpret it correctly.

The following articles are by Dr. Henry Morris. Please note that I don't agree with the Young Earth view of Dr. Henry Morris; yet, he is a tremendous author exposing Evolution:

---

---

"Know ye that the LORD he is God: it is he that hath made us, and not we ourselves..."


—

Psalm 100:3

Now we come to slides depicting dragon legends to prove that dinosaurs walked with man. Actually, the only time dinosaurs walked with man was in the movie, Jurassic Park! Yes, the word "dragon" is in the Bible; but, in all cases, the context reveals it is talking about an existing water or land animal of some type. This use of legends as fact only proves the lengths to which young earth advocates will go to prove their point. The Bible warns about legends and traditions in Colossians 2:8, "Beware lest any man spoil you through philosophy and vain deceit, after the tradition of men, after the rudiments of the world, and not after Christ."

SOURCE: Dr. Younce, The Truth About Evolution; Appendix, pg. 247

---

"Science without religion is lame, religion without science is blind." —Albert Einstein (1879-1955)

---

"For this they willingly are ignorant of, that by the word of God the heavens were of old..."
—2nd Peter 3:5

Dinosaurs Lived Before Man

"Dinosaurs Survived Mass Extinction by 700,000 Years, Fossil Find Suggests

.

"

---

How does Evolution explain the molten core of the earth? Why doesn't the moon have a molten core? The planet Jupiter also has a molten core.

Click on the preceding links and look at the complex rocket science behind the earth's core. Can anyone honestly claim that the universe came from a Big Bang?

---

What One Famous Scientist Said About Evolution

...

"One morning I woke up and something had happened in the night, and it struck me that I had been working on this [evolution] stuff for twenty years and there was not one thing I knew about it. That's quite a shock to learn that one can be so misled so long. Either there was something wrong with me or there was something wrong with evolutionary theory. Naturally, I know there is nothing wrong with me

..."

"[The] question is: Can you tell me anything you KNOW about Evolution? Any one thing? Any one thing that is true? I tried that question on the geology staff at the Field Museum of Natural History and the only answer I got was silence. I tried it on the members of the Evolutionary Morphology Seminar in the University of Chicago, a very prestigious body of Evolutionists, and all I got there was silence for a long time, and eventually one person said,

'

I do know one thing - it ought not to be taught in high school

'

."

—Part of a keynote address given at the American Museum of Natural History by Dr Colin Patterson (Senior Paleontologist, British Museum of Natural History, London) in 1981. Unpublished transcript.

---

"Evolution became in a sense a scientific religion; almost all scientists have accepted it and many are prepared to bend their observations to fit in with it."

—H. Lipson, "A Physicist Looks at Evolution," Physics Bulletin 31 (1980), p. 138

---

Can anyone, viewing a hummingbird in action and knowing that all its hundreds of organs are packed inside something the size of a marble, believe the myth that, way back, it originated when a lightning bolt hit some dirty seawater?

2nd Peter 2:4, "For if God spared not the

angels that sinned

, but cast them down to hell, and delivered them into chains of darkness, to be reserved unto judgment."
"The evolutionary establishment fears creation science, because evolution itself crumbles when challenged by evidence. In the 1970s and 1980s, hundreds of public debates were arranged between evolutionary scientists and creation scientists. The latter scored resounding victories, with the result that, today, few evolutionists will debate. Isaac Asimov, Stephen Jay Gould, and the late Carl Sagan, while highly critical of creationism, all declined to debate."
—James Perloff, Tornado in a Junkyard (1999), p. 241.

---
"Education is a weapon, whose effect depends on who holds it in his hands and at whom it is aimed." —Communist dictator, Joseph Stalin (1934)
"

People who wish to remain FREE can follow only one plan of action. They must support Christianity against ALL forms of atheism and secularism.

"

SOURCE: PAWNS IN THE GAME

(free online .PDF book)

,

page 127, by William Guy Carr, 1958
---
Psalms 33:8-9,

"Let all the earth fear the LORD: let all the inhabitants of the world stand in awe of him. For he spake, and it was done; he commanded, and it stood fast."
---
"At the heart of evolutionary theory is the basic idea that life has existed for billions of years and has changed over time.

Overwhelming evidence supports this fact.

"



"Hypotheses and theories may be well supported by evidence, but never proven."



"Science is not about belief—it is about making inferences based on evidence."



"One who knows all that I do not know, who fixes the limits of the possible, and knows exactly what is impossible. The world is not dark to him: he is born and cradled, and grown to manhood in the intensity of a great light. He knows all things, and he is content and happy in his utter ignorance."
---
---
Job

12:7

-10,

"But ask now the beasts, and they shall teach thee; and the fowls of the air, and they shall tell thee:

Or speak to the earth, and it shall teach thee: and the fishes of the sea shall declare unto thee.

Who knoweth not in all these that the hand of the LORD hath wrought this?

In whose hand is the soul of every living thing, and the breath of all mankind."
---
Because the first chapter of Genesis goes right back to "the beginning" of recorded history, people sometimes get the erroneous impression that the Bible attempts to offer "the history of the Earth." If that were so, it fails miserably! In the chapters of Genesis, whole periods of hundreds of years are passed over in a few sentences--and at times, totally ignored. And yet later in the same book, whole chapters are devoted to the events of just one day. Some Old Testament individuals are mentioned only once, and even then, only in passing. Yet others are named over and over again--not only in the Old Testament, but numerous times in the New Testament also.
This is because the Bible isn't intended to be a comprehensive history of the existence of Mankind on the earth.
It is rather

,

in particular

,

a chronicle of the relationship of one man's family with the Creator of the Universe. And it is the record of that Creator's intention to bless all of Mankind through the descendants of that man

[Abraham]

. People are introduced in the early chapters of Genesis

,

not primarily for the details of their own history, but as preludes to the history of the family of that one man--his ancestors, and the ancestors of those who would inter

-

react some day with his descendants. —READ MORE
The omnipotent power of God's Word sustains the universe . . .
"For this they willingly are ignorant of, that by the word of God the heavens were of old, and the earth standing out of the water and in the water:

Whereby the world that then was, being overflowed with water, perished:

But the heavens and the earth, which are now, by the same word are kept in store

...

"

—

2nd Peter 3:5-7
Colossians 1:13,16,

"

Who hath delivered us from the power of darkness, and hath translated us into the kingdom of his dear Son

...

For by him were all things created, that are in heaven, and that are in earth, visible and invisible, whether they be thrones, or dominions, or principalities, or powers: all things were created by him, and for him

.

"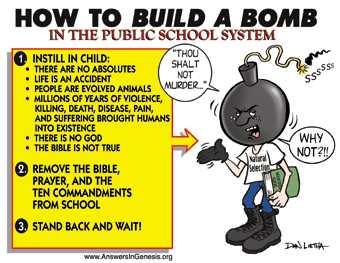 Can anyone, viewing a hummingbird in action and knowing that all its hundreds of organs are packed inside something the size of a marble, believe the myth that, way back, it originated when a lightning bolt hit some dirty seawater?
Come now, not even a four-year-old would believe that one.
Not evolution, but a creative act of God brought everything into existence.
However, the mountain of scientific data now available to us also narrows the range of that Creation act. It obviously occurred rather recently, only within the last few thousand years. We know this because the condition and arrangement of sedimentary strata show it was rapidly laid down by a worldwide Flood only a few millenniums ago (chapter 12, Fossils and Strata). We also know it because of 58 dramatic findings that our world is youthful (chapter 4, Age of the Earth).
"I have often thought how little I should like to have to prove organic evolution in a court of law."—*Errol White, Proceedings of the Linnean Society, London (1966) [an ichthyologist (expert on fish) in a 1988 address before a meeting of the Linnean Society in London].

"I doubt if there is any single individual within the scientific community who could cope with the full range of [creationist] arguments without the help of an army of consultants in special fields."—*David M. Raup, "Geology and Creation," Bulletin of the Field Museum of Natural History, Vol. 54, March 1983, p. 18.

"No one has ever found an organism that is known not to have parents, or a parent. This is the strongest evidence on behalf of evolution."—*Tom Bethell, "Agnostic Evolutionists," Harper's, February 1985, p. 61.

"As by this theory, innumerable transitional forms must have existed. Why do we not find them embedded in the crust of the earth? Why is not all nature in confusion instead of being, as we see them, well-defined species?"—*Charles Darwin, quoted in H. Enoch, Evolution or Creation (1866), p. 139.
Other types of scientific evidence establish the fact that, contrary to what some Christians suggest, no evolving from one species to another has occurred. The original species remain intact, but they have produced many sub-species.
Although neither the book of Genesis nor any other part of the Bible is used in the Cruncher as scientific evidence, we should note that those Christians who choose to embrace evolutionary theory deny the reality of the Genesis accounts of the Creation and the Flood. If we cannot trust Genesis, what can we trust?
In addition, according to the Bible, sin and death began after the fall of Adam and Eve. But that important truth would be negated by the theory that savagery, violence, and sudden killing reigned for millions of years on our planet before Adam and Eve came into existence.
So that brings us back to two views of origins, evolution or Creation—only two. By accepting the one, we reject the other. They cannot be blended.
"As a blind man has no idea of colors, so we have no idea of the manner by which the all-wise God perceives and understands all things." —Isaac Newton (1642-1727)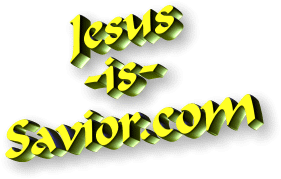 YouTube
68143347
visualizzazioni video
Information for Parents: "So then faith cometh by hearing, and hearing by the word of God" Romans 10:17 "FAITH COMETH BY HEARING" ... ROMANS 10:17 Alexander Scourby Holy King James Bible on DVD (Listen to the King James Bible while working, resting, or sleeping. I can't recommend listening to the King James Bible enough. Alexander Scourby has a very soothing voice, great for nurseries and as a background while working around the home or workplace. I've heard other audio Bibles, but the voice is inferior compared to the gift which God has given to Alexander Scourby. I enjoy his voice.) Alexander Scourby Holy King James Bible on DVD. Also, this is a great way to win lost loved one's to the Lord. if they won't get saved, ask them to just listen to the Word of God and pray for the Holy Spirit to convict them with His holy Word. Amen! This is a great way to learn the Scriptures! When you listen, you can give all your attention to what is being said. The Bible on DVD does not replace one's reading, but it is a wonderful tool to ABIDE in the Word of God as John 15:7 tells us... "ye abide in me, and my words abide in you."
The End of the World? "But thou, O Daniel, shut up the words, and seal the book, even to the time of the end: many shall run to and fro, and knowledge shall be increased." —Daniel 12,4 "And the kings of the earth, and the great men, and the rich men, and the chief captains, and the mighty men, and every bondman, and every free man, hid themselves in the dens and in the rocks of the mountains; And said to the mountains and rocks, Fall on us, and hide us from the face of him that sitteth on the throne(Unius REI), and from the wrath of the Lamb." Revelation 6:15-16 The technology for the mark of the beast is here folks! Thousands of people worldwide have already been chipped. With such technologies, the government could control us like cattle. NO Christian should ever defile God's holy temple by receiving a micro-chip implant!
666 CIA IMF Synnek1 --> you are the world's smartest Satanist! but this will never do: of you: a good person, you will remain: only: the wiser: between: the criminals and murderers! However, there is a universal law about human blood: who does spoil: the innocent blood? also his blood be shed! that is why many Freemasons, etc. .. lost: so, in mode dramatic and premature, or their children, or their grandchildren!

@Synnek1°idiot 666 --> You do not have a good memory: "I did not say: that: one, people want to do to me (whether good or in evil, then God does to them?)", so for yourself: you have pronounced your own sentence of death, with your own mouth!lol. If you are survived: up to now? it is only because you have recognized my superiority