North Korea's Kim Jong-un marries
Mystery woman seen with young leader of North Korea in recent weeks identified as his wife by state broadcasters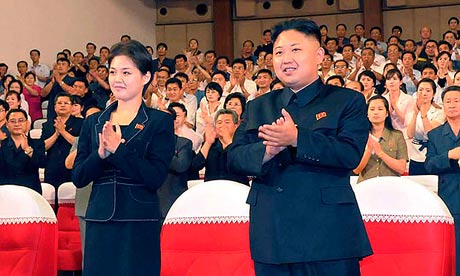 North Korea
's youthful leader
Kim Jong-un
has married, state broadcasters announced late on Wednesday.
The statement followed extensive
speculation about the identity of a young woman repeatedly pictured with Kim
in recent weeks – who had been variously identified as his wife, sister or possibly a married singer he was rumoured to have romanced.
State radio announced that he had attended the completion ceremony of an amusement park with his wife, Comrade Ri Sol-ju, according to
Voice of America
. It is not clear when the pair married.
Kim became leader following the death of his father
Kim Jong-il
late last December and took the top military rank of marshal this month – days after the sudden departure of army chief Ri Yong-ho – in a symbolic cementing of his status.
Professor Hazel Smith, an expert on North Korea at Cranfield University, said: "It looks as if they have been following a very systematic sequence of events." Kim is thought to be 27 or 28 and his wife also appears to be in her twenties or early thirties.
Earlier, the South Korea's unification minister, Yu Woo-ik, had said that the woman repeatedly shown with him "appears to be his wife", AFP reported, although he did not indicate why he thought so.
North Korea
North Korea is arguably the most isolated country in the world. On Russian insistence, Korea was partitioned after World War II, and a Communist regime took power in 1948. North Korea invaded the South in 1950, and civil war dragged on until 1953. Today, the fortified border between the Koreas is one of the most impenetrable in the world, watched by a huge military force.
The country's dictator, "Dear Leader" Kim
Jong-Il
, had presided over one of the most repressive regimes in the world until his death in December 2011, passing down his mantle of leadership to son Kim
Jong-Un
. The country is completely dedicated to the ideology of
Juche
, which means
"self-reliance."
The only acceptable religion is
Juche
, or "Kim Il-Sung-ism," the cult of the deceased leader. All other religions are harshly repressed. Hundreds of thousands of Christians have died because of persecution, and up to 35,000 are currently in prisons or work camps. The true number of Christians is unknown, though estimated by most reliable sources to be around 100,000.
After decades of economic mismanagement and resource
misallocation
, North Korea has relied heavily on international aid to feed its population since the
mid-1990s
. Chronic food shortages and widespread malnutrition are rampant. North Korea's history of regional military
provocations
, proliferation of military-related items, long-range missile development, "weapons of mass destruction" programs and massive conventional armed forces are of major concern to the international community.
As
Juche
becomes increasingly weak and deluded, North Korea and its regime appear ever more vulnerable. According to
The Wall Street Journal
,
U.S
. intelligence depicts
Jong-Un
as "a volatile youth with a sadistic streak who may be even more unpredictable than his late father."
Prayer Requests
Pray North Korean believers will persevere in what is probably the most difficult country to be a Christian.
Pray for the leader and his cadre that the Holy Spirit will bring them to repentance and belief.
Pray for a watershed moment in God's timing that will bring thorough change, freedom and complete transformation to this land.
Pray for safety for North Korean refugees in China who live in hiding and are hunted by Chinese and North Korean agents.
North Korea Profile
Location
Asia
Population
24,457,492 (July 2011

est

.)
Ethnicity (%)
Racially homogeneous; there is a small Chinese community and a few ethnic Japanese
Religion (%)
Non-religious (69.30),

Ethnoreligionist

(15.50), Other (13.60), Christian (1.48)
Leader
Kim

Jong-Un


Government type
Communist state one-man dictatorship
Legal system
Based on Prussian civil law system with Japanese influences and Communist legal theory
Statistics provided by CIA World

Factbook

and Operation World.
=======
YouTube
68269389
visualizzazioni video
[to all blasphemers: you were on Calvary: to express with certainty, your Judgment: Against Jesus? but, he is dead with endless love Also, for a piece of shit like you] Light of the world: in the darkness of the heart come and enlighten me, you are my only hope of life, REMAIN with me forever. I'm here to praise, to adore you here, here to tell you That you are my God and only you are holy, you're wonderful: and: worthy glory: you are for me. King and King in glory in the history, you come down on earth among us, with humility: you left your throne: to show your love. I'm here to praise, to adore you here, here to tell you That you are my God; and: only you are holy, you're wonderful: and: worthy glory: you are for me. I do not know how much it cost you dying on the cross there for me.
God is always important for all peoples: honest and good: in all the world, but Bush was, your 322, and Rothschild was your 666: Who did the satanism of the International Monetary Fund: from which all the evil, of the human race is came!